The Palate Press Advertising Network is pleased to bring many of the internet's leading wine websites together to form the largest wine-dedicated advertising network in the world. In addition to its flagship, Palate Press: The online wine magazine, the Network includes dozens of award-winning top-shelf wine web sites.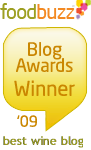 1 Wine Dude, the creation of Joe Roberts, CSW, WEST, was named a FoodBuzz Award Winner as Best Wine Blog 2009.
Jeff Lefevere, the creater of Good Grape: A Wine Blog Manifesto, is one of the most recognized wine writers on line. He is a multiple American Wine Blog Award finalist (2008) and winner (2007 and 2009), and Good Grape was selected by Alltop as "Best of the Best" among wine blogs.
Lenn Thompson is the Publisher of The New York Cork Report, a group effort to explore wine grown in, and consumed in, the Empire State. The New York Cork Report was the 2009 American Wine Blog Award Winner for Best Single Subject Blog.
In addition to those award winners, The Palate Press Advertising Network includes many of the most recognized and trafficked wine sites on line. All of the following sites have been recognized as Top 100 Wine Blogs: